Special opportunities during this Mosaic-sponsored event include the launch of a new Pathways tour and a special movie featuring a young shark conservationist
As a proud Smithsonian Affiliate, the South Florida Museum is excited to once again participate in Smithsonian magazine's Museum Day — a day that allows guests to visit select museums nationwide for free — including the South Florida Museum.
"We love providing the opportunity for people to
get a taste of our Museum if they've never been, or to come back for more if they've come previously," said Museum CEO Brynne Anne Besio. "Our status as a Smithsonian Affiliate gives us access to high quality traveling exhibitions and we'll be announcing our next Smithsonian exhibit soon."
Museum Day represents a nationwide commitment by Smithsonian magazine to access, equity and inclusion. More than 250,000 people downloaded tickets for last year's event, and Museum Day 2018 is expected to attract more museum-goers than ever before.
This year's theme is "Women Making History" and we're introducing a new
Pathways
tour on Sept. 22 that will allow guests to learn more about six women who were pioneers of their time.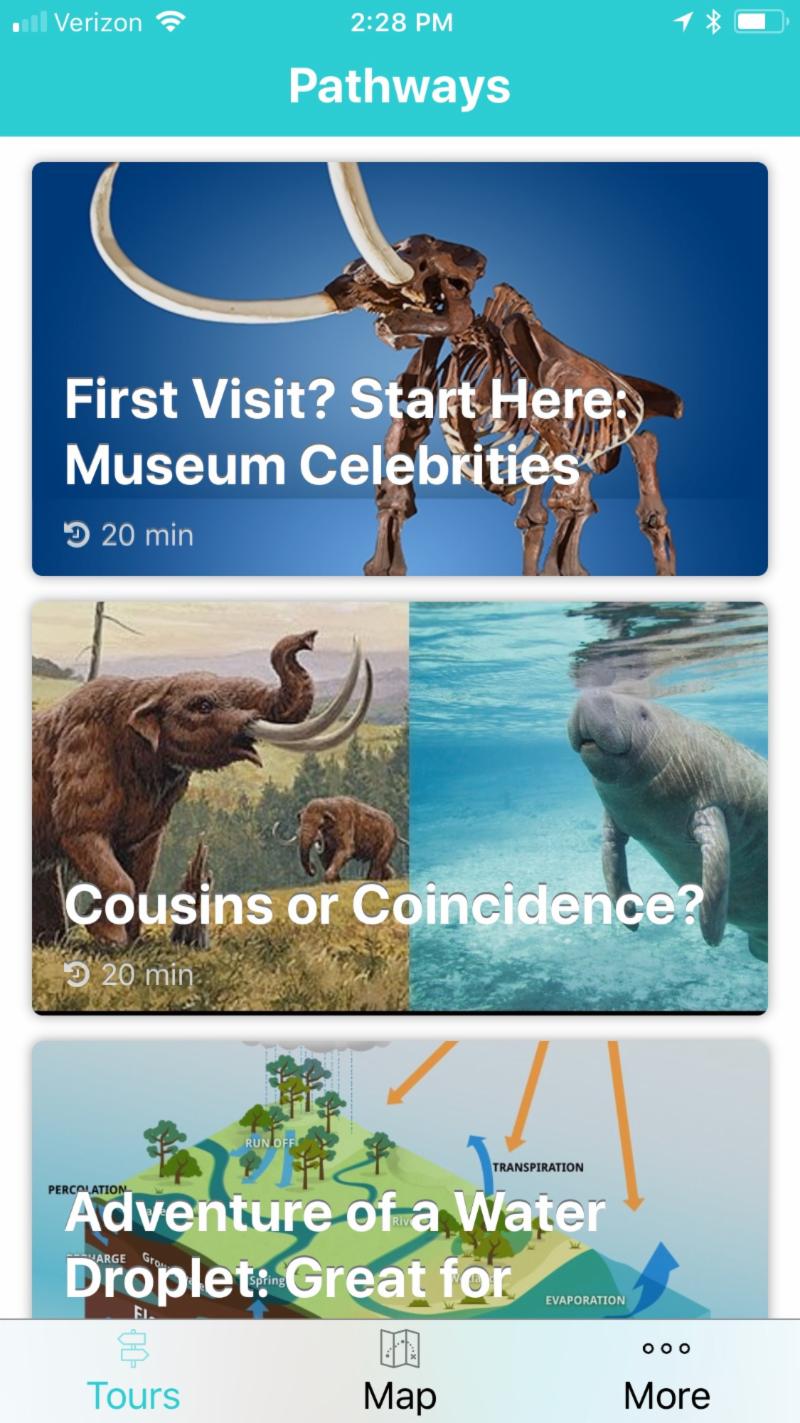 Pathways — Compelling Connections for the Chronically Curious is our new smart-phone and tablet-based app that is helping our visitors learn more about  the objects in our unique exhibitions and the many stories behind them.
Museum visitors simply go to their Apple or Android app store and search for the free app called "Pathways SFM" and download it to their smartphones. The app is an interactive Museum guide that provides interesting narratives that go well beyond traditional museum text panels with the addition of customized graphics, video, audio and more.
The newest Pathways tour launching on Museum Day will use objects to highlight important contributions women have made to science, culture and society.
Museum Day — sponsored at the South Florida Museum by Mosaic — will also include ongoing Aquarium presentations and Planetarium shows throughout the day and the Museum will be hosting special free showings of the Smithsonian Channel™ documentary, "Shark Girl," a 45-minute feature film about 20-year-old Madison Steward's quest to save sharks.
For Madison, nothing feels safer or more natural than diving straight into waters that thousands of sharks call home. Since childhood,
growing up by the Great Barrier Reef, she's treated these predators as family. But they're vanishing from existence, and because of their bad reputation, few people seem to care. Follow Madison on her mission to protect our sharks, a battle that began when she put her studies on hold, grabbed a camera, and set out to save these incredible, misunderstood creatures.
Showings of "Shark Girl" — recommended for ages 10 and older — will begin at 10:30 a.m. and take place hourly in the Museum's Boardroom — seating will be limited!
If You Go
What: Free Admission to the South Florida Museum during Smithsonian magazine's Museum Day.
When: 10 a.m. to 5 p.m. Saturday, Sept. 22, 2018.
Special Activities: The launch of our newest Pathways tour about pioneering women; special showings throughout the day of "Shark Girl," a 45-minute film about a 20-year-old shark conservationist. "Shark Girl" is recommended for ages 10 and older.
In the Planetarium: KidSpace will take place at 10:30 a.m. (perfect for elementary-school aged kids) followed by showings of Perfect Little Planet in the morning and Passport to the Universe in the afternoon.
In the Aquarium: Join us for presentations at 11 a.m., 12:45 p.m., 2:45 p.m. and 3:45 p.m. to learn more about manatee rehabilitation at the Museum.
Get Tickets: Tickets are available free online beginning Aug. 15 at smithsonian.com/museumday. Download one ticket per email address. Each ticket provides free admission for two guests.
Take a Pathways Tour:
In addition to the new Pathways tour about pioneering women that will launch on Museum Day, we also have these tours highlighting unique objects and connections in our collection:
"Museum Celebrities," highlighting some of our most popular objects.
"Cousins or Coincidence?" showing the connections between manatees and mastodons.
"Adventure of a Water Droplet," a perfect family tour that shows how a single water droplet moves through the water cycle.